Two new Vauclusian craft companies awarded the label Entreprise du patrimoine vivant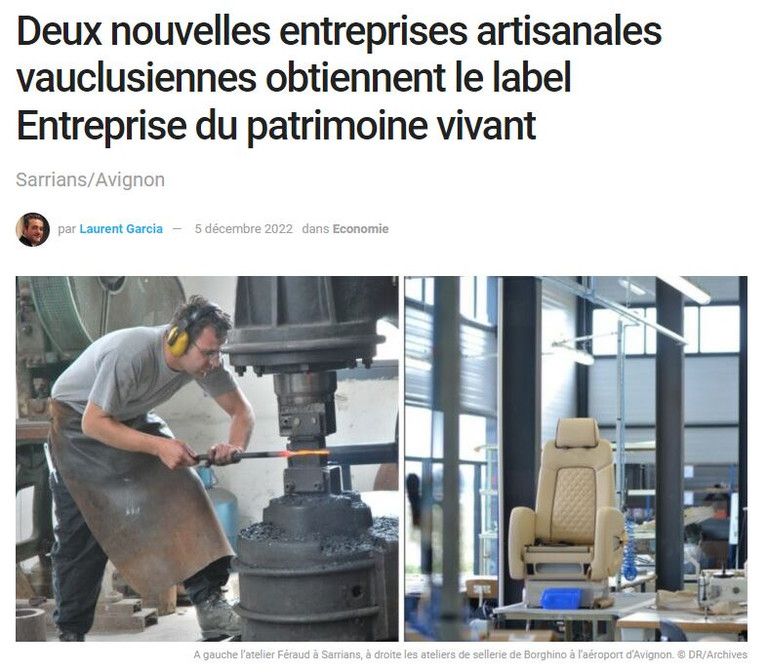 Five companies in the Provence-Alpes-Côte d'Azur region have just received the Entreprise du Patrimoine Vivant (EPV) label. Among them, two Vauclusian companies are in the spotlight: the Féraud workshop in Sarrians and Borghino in Avignon.
Awarded by the State, the EPV (Living Heritage Company) label was created in 2005 as part of the law in favour of SMEs to distinguish French companies with artisanal and industrial know-how. The aim is to avoid the disappearance of exceptional economic and cultural talents, which are all too often threatened.
As such, 13 companies from the Southern Region have just been awarded this label, 8 of which have been renewed. Among the new regional EPV companies are two Vauclusian companies: the Féraud workshop in Sarrians and the Borghino saddler in Avignon.
Metalworking workshop founded in 1947 by the grandfather of Olivier and Julien Féraud, master craftsmen, which offers custom-made creations thanks to their know-how of excellence, the Féraud workshop produces prints for handrails, handrails, decorations of portals and arbors.
For their part, Borghino workshops have been dressing, decorating and decorating the interiors of planes and helicopters since 1981. Mastery of the gestures of the Profession, search for artisanal excellence, work of leather and noble materials are the trademark of these workshops located on the airport of the city of popes.
At the same time, the Nougats Silvain in Saint-Didier were also renewed their label.

About 100 companies certified in Paca, about 20 in Vaucluse
Awarded for a renewable period of 5 years, this label brings together manufacturers committed to the high performance of their business, their products, and their territory. It is the only state label guaranteeing excellence in know-how and awarded to a company for its entire activity. In the Provence-Alpes-Côte d'Azur region, a hundred companies certified as Living Heritage Company perpetuates its rare, renowned or ancestral know-how, based on the mastery of traditional techniques or high technicality and limited to a territory.
In and around Vaucluse, there are more than twenty companies with the EPV label: Aptunion Distribution in Apt, the Tournillon workshop in Sainte-Cécile-les-Vignes, Brun de Vian-Tiran in Isle-sur-la-Sorgue, the Guintrand preserves in Carpentras, l'Atelier Stéphanie le Breton à Avignon, Mathieu lustrerie à Gargas, La Compagnie d'Ancone – André Boyer Nougat de Sault, La Forge à Pernes-les-Fontaines, Les Ocres de France à Apt, L'atelier de la Boiserie à Gargas, Ventoux Moteurs Ingénierie à Carpentras, Plâtrerie Zambelli Patrick in Mazan, the Quoirin Organ Manufacture in Saint-Didier, Solag au Thor, the Centre horloger de Provence in Entraigues-sur-la-Sorgue, the Sellerie du Mont Ventoux in Malaucène, the Alain Bidal workshop in Isle-sur-la-Sorgue, as well as Art et rénovation in Gargas.

To this is added other EPV implanted in the basin of life of Avignon: Hawecker brothers in Châteaurenard, Les Olivades- Société Avignonnaise d'impressions in Saint-Etienne-du-Grès, the Marbrerie Anastay in Saint-Rémy-de-Provence

At the national level, nearly 1,400 companies have been certified to date. These prestigious houses currently represent more than 63,000 jobs and a cumulative annual turnover of around 14 billion euros.